Can Landscape Lighting Double as Christmas Lights?
Most definitely, landscape lighting can double as Christmas lights! As you can see, this home and property are bathed in holiday hues of red and green. When selecting color-changing fixtures, it's important to note that quality comes at a price. To get the vibrant colors you see here, you'll want to invest in high-quality fixtures that:
Are high-lumen LED
Show high contrast between colors
Not every light in your landscape lighting system needs to change color. We help our customers select the best focal points for color-changing fixtures, and that does help keep the price within budget. The house above shows about five color-changing lights. The rest of the outdoor lighting are traditional one-color LEDs.

Smart Landscape Lighting Makes Christmas Lights a Snap
We at LUX Landscape Lighting love the LUXOR smart landscape lighting system from FXLuminaire. Smart lighting has many benefits, but this time of year, our customers are amazed that their Christmas lights can be configured in minutes from an app. The color combinations and possibilities are only limited by your preferences and imagination. With a tap, you can select any color on the spectrum.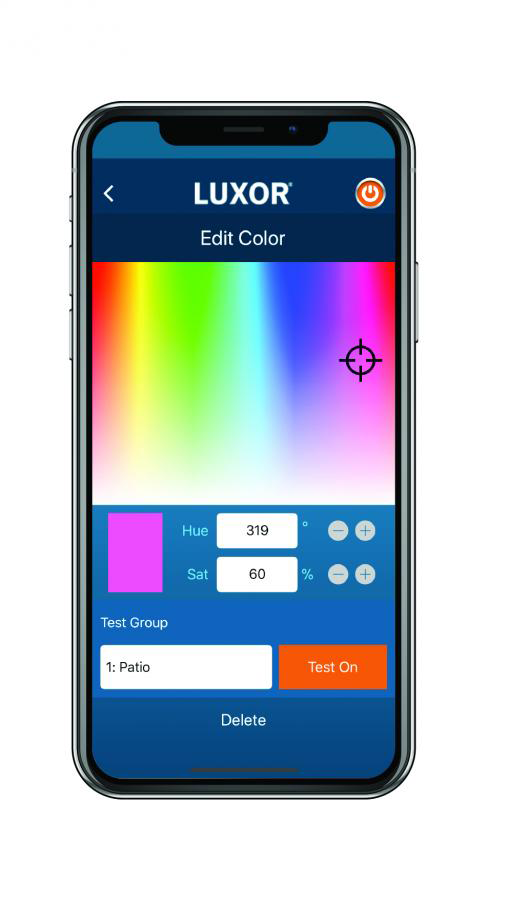 When we install a smart landscape lighting system, we set up different zones that include groups of light fixtures. We guide you on which zones might be best for your property and show you how to use the system (but, really, it's very easy to use).

More than Christmas Lights… Color-Changing Lights for any Holiday or Reason
With smart landscape lighting, you can easily change the colors of your lights for any season or event, not just for Christmas lights.
Red, white and blue for Independence Day
Orange and purple for Halloween
Green for Earth Day
Sport team colors for game day
Pink for Breast Cancer Awareness Month
Favorite colors for birthdays, parties… or anytime you feel like a change in atmosphere
We've seen customers get really creative with their color-changing lights. One customer in particular lit up a favorite fountain with lights that shifted color every few seconds. It was a hypnotic and interesting effect that took advantage of the technology.
Watch the Video on Color-Changing Lights and Get Inspired for Your Christmas Lights
Sean tells you what to look for and how to place color-changing landscape lights to best effect.
Watch: A Guide to Color-Changing Landscape Lights
Ready to bring smart landscape lighting to your home and property? Contact us for a lighting portrait quote.