LANDSCAPE LIGHTING PRICING
Average Landscape Lighting Pricing
Landscape lighting quotes vary from one contractor to another. There are many variables to consider, including type and quality of materials and the installation process itself. LUX Landscape Lighting is dedicated to high-quality products, installed with expertise. We mostly quote integrated LED systems.
This will give you an idea of what our Landscape Lighting Portrait Quote might be for your property:
These prices are based on an average installation. Actual quoted price could be lower or higher, depending on the ease or difficulty of the installation.
Variables that Influence Landscape Lighting Prices
There are several variables that influence the quote you might receive for landscape lighting.
The actual products being used are the biggest cost factor. Installation labor costs will likely be similar across the board.
On the lower end of the cost spectrum are imported products from China. Higher-quality products made in America are more expensive. Let's compare some fixture pricing, based on materials used.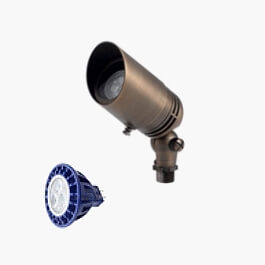 On the lower end of the professional-quality lights are the brass and copper fixtures that use drop-in LED lamps. Drop-in lamps have a much shorter life than integrated LED fixtures, but they have a much lower up-front cost.
No matter how high-quality the fixture itself, there are drawbacks to using drop-in lamps. LED lamps are sophisticated pieces of technology, and they are sensitive to heat and moisture. Drop-in LED lamps:
have a much shorter life
light color quality degrades rapidly
are more expensive to maintain
We recommend drop-in LED lamps for customers who have an existing system that is in good shape and already has high quality fixtures, otherwise we always propose integrated LED lighting systems.
Prices for individual drop-in lamps vary considerably, depending on if the lamp is intended for outdoor or indoor use. For example:
Indoor Philips MR 16 LED: $7.99
Outdoor Brilliance MR 16 LED: $43.99
Outdoor lamps are designed to handle extreme temperatures that we experience here in the TriState, from 10 below zero to 100 degrees Fahrenheit. Sure, you can use the indoor lamps in a landscape lighting fixture, but they won't last very long.
If you are maintaining your system yourself, and you don't mind changing bulbs frequently, you can buy the less expensive indoor lamps. On the other hand, if you are paying a contractor to do the work, the labor cost will make the $7.99 bulb very expensive in the long run.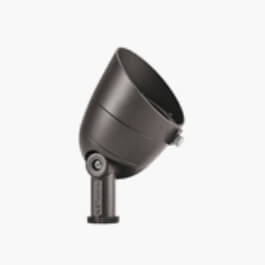 The better solution to drop-in LEDs are integrated LED fixtures made in China.
The integrated LED system combines the fixture with the electronics and optics into a single unit, meaning there are no replaceable parts. The fixture is designed to optimize thermal control and perfect the optics of the light.
Pros:
Much longer life than drop-ins
Better quality of light
Higher energy savings
Lower operating and maintenance costs
Environmentally safe
Cons:
Higher initial cost
Must replace entire fixture if LEDs die
Less flexibility in making changes to light output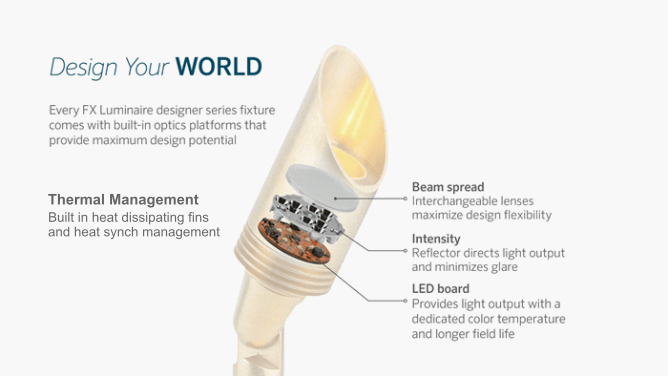 At LUX Landscape Lighting, our preference is the FX Luminaire brand. This lighting fixture combines the best of both integrated and drop-in LED technologies.
These fixtures are considered integrated technology in that the fixture and the electronics are designed to work together to give optimal thermal control and light output control.
These fixtures also have interchangeable beam spread and color filters that allow for field adjustments. You can achieve optimum light output for the specific use.
The LED circuit board can be swapped out to change the lumen output to replace a failed chip set if that were to happen.
These fixtures come in powder coated aluminum (or for premium performance, they are available in solid copper, brass and stainless steel).
The average life of the LED is 72000 hours
They have a 10-Year Warranty
This line can also be upgraded to have the ability to individual fixture zoning, dimming and color changing with the LUXOR system.