Fall is the perfect time to start planning your landscape lighting project, and winter installations are no problem for LUX Landscape Lighting. We anticipate these five landscape lighting trends for 2022:
Downlighting to reduce light pollution
Smart, color-changing landscape lights
More hardscapes equal more hardscape lighting
Bistro lighting continues to enchant
Focus on security lighting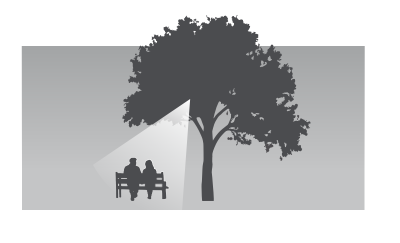 Downlighting to Reduce Light Pollution
Grand Canyon National Park was recently certified as an International Dark Sky Park, which allows six million visitors annually to enjoy stunning star-strewn views at night. The park retro-fitted many of its light fixtures to shine downward, called downlighting. This technique helps preserve the darkness of the sky while still providing lighting for safety and navigation.
Homeowners with rural or out-of-the-way properties may also want to combine the joy of stargazing with the functionality of landscape lighting. Downlighting from trees or roofs is a natural-feeling illumination that mimics moonlight and is ideal for lighting gathering spaces like patios. Downlighting from fence posts or walls can provide the perfect illumination for walkways or property boundary lines.

Smart, Color-Changing Landscape Lights
A smart lighting control system offers many benefits, like zone and brightness control. But the most fun feature is the option to change the color of your lights. We predict more homeowners will want the convenience and customization of changing light colors from an app on their phone in the coming year. There are so many possibilities for using this feature:
Parties
Holidays
Sporting events
School pride
We offer the LUXOR system from Hunter Industries, as the top-of-the-line smart controller.
More Hardscapes Equal More Hardscape Lighting
Hardscaping is growing in popularity as homeowners seek to create outdoor living spaces to enjoy with family and friends. Outdoor kitchens, fireplaces, fire pits, bars and more transform ordinary backyards into oases. Families quickly realize they want to spend more time outside– even after the sun sets.
Enter the need for hardscape lighting– specially-designed fixtures that integrate into the stones or blocks used to build the hardscape environment. Learn more about hardscape lighting here.
Bistro Lighting Continues to Enchant
Bistro lighting is a trend we anticipate will continue into 2022 and beyond. It's easy enough to see why– these small twinkling lights create an atmosphere of festivity, relaxation and vacation all at once. This trend goes hand-in-hand with hardscape lighting as homeowners invest more into outdoor living spaces they want to enjoy well into the evening. Get ideas for your property by watching our bistro lighting inspiration video.
Professional-grade bistro lights will outlast string lights that are readily available in most big box stores and are built for the elements. And professional installation will integrate this lighting style into your landscape lighting system, avoiding the inconvenience and danger of plugging them into an outdoor outlet (and maybe forgetting to unplug them when going inside).

Focus on Security Lighting
Landscape lighting has always been known for increasing security around homes and property. A well-lit area is less attractive to prowlers. In the last few months, the TriState has seen increasing amounts of criminal activity in residential areas. In combination with other security measures like closing garage doors at night, keeping cars locked and doorbell cameras, landscape lighting can make a home less attractive to criminals and encourage them to move along.
Want to get a head start on landscape lighting for next year? Contact us for a lighting portrait quote.